Fabrication and installation of awnings
INSTALLATION AUVENT 12 PIEDS PAR 18 PIEDS 
Les Enterprises Vaudry et Villeneuve are proficient to manufacture and install custom-made aluminum and polycarbonate awnings. Many colors are available! Moreover, all our products are manufactured and delivered in a very short timeframe.
Our company is here to help you and make a free quote!
Protect yourself from the sun and rain with a permanent and rigid polycarbonate awning.
The canopy is made ​​of impact resistant polycarbonate. It is virtually unbreakable as well. Polycarbonate is available in clear, tinted, translucent or opaque material, allowing you to choose as much light transmission as you want.
Moreover, polycarbonate is treated against the harmful UV of the sun. The sturdy aluminum structure can support the loads of snow or ice for sustainable use.
So hurry, ask for our services and expertise!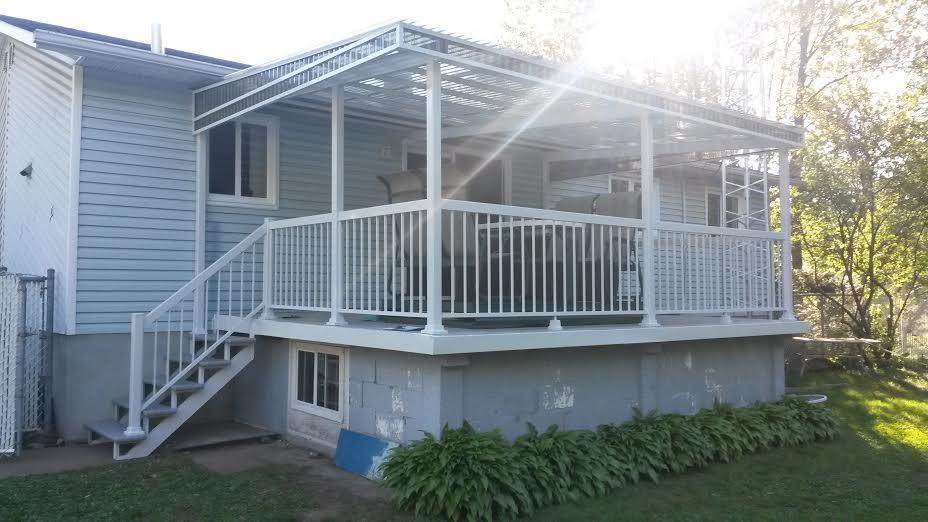 AWNING ALL ALUMINUM
Its awnings are assembled using aluminum slats with a baked paint that does not rust!
They are custom made to cover, windows, doors, balconies, carports.
AWNING POLYCARBONATE ROOF AND ALUMINUM STRUCTURE
At the bottom available colors of polycarbonate
Voici l'assemblage de l'auvent en polycarbonate !
moulure de départ au mur 
moulure de départ auvent
profilé e U
chevron
profilé spécial en C
profilé en C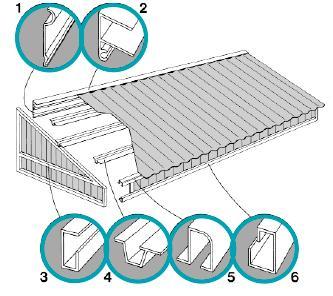 ALUMINUM STRUCTURE
Choose an aluminum frame for your deck! No more worries because it is maintenance free.
CHOICE OF COLORS AVAILABLE: white, black, clay (beige) and commercial brown.
ALUMINIUM SEPARATOR
For more privacy, the aluminim separator is available on demand and is custom-made. Colors such as white, black, clay (beige) and dark brown are available.
MADE FULLY IN ALUMINIUM, THEREFORE NEEDS NO MAINTENANCE AND IS AN EXCELLENT CHOICE.
​​​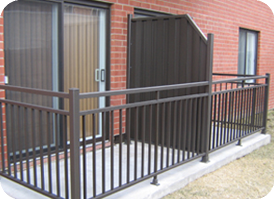 Contact us to request a quote.