Silts and aluminium stairs
Situated in Montreal, Les Enterprises Vaudry et Villeneuve perfectly masters the manufacturing process of aluminium silts and stairs. We can create the stairs that will perfectly fit your interior decoration and that will be in complete harmony with your existing or future ramps and columns.
We manufacture the tailor-made stairs while paying special attention to your particular tastes; you will moreover have the choice between a very large selection of models as well as colors.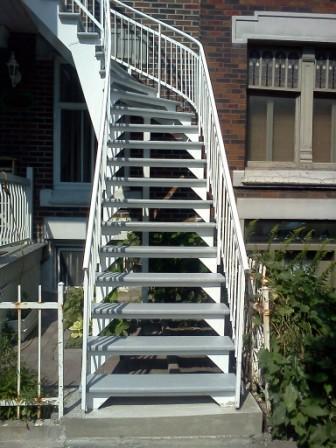 ALUMINUM TURRET WELDED IN BAROTIN FOR THE SIDE OF THE BUILDING OR LARRIÈRE
ESCALIER ALUMINIUM SOUDÉE DE FACADE (PATRIMOINE)
Made-to-measure aluminum silt.
*according to regulations*
COLORS AVAILABLE
Stairs with aluminum stringer, fiberglass stairs and MECHANICAL ramp (targeted).
Model with stair angles and model with offset
N'hesitez pas à nous contacter